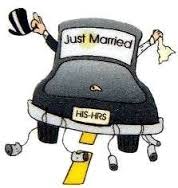 Tips for Changing your name
First of all, congratulations on your marriage!   After months of endless planning and scheduling, you had the wedding of your dreams, enjoyed a great honeymoon and now, you can relax.  Not quite yet….   You still have to decide if you are going to change your last name, and if so, how do you go about it?    Here are a few tips to help you in this process…
First, request your marriage certificate.   You can go through the same office you got your marriage license .   You can either go in person or ask for it to be mailed.    You may have to provide some information in order to get this:   a completed marriage certificate request form, a photocopy of your photo ID, and a check or money order for the fees.
Second,  change your social security card:  you will need your marriage certificate, driver's license and/or passport to start this process.    You can download and complete the application from Social Security's website and then take the completed form to your local social security office.
Third, change your driver's license.  Go to your local DMV to do this and you may want to take along these items just in case:   your new social security card, your marriage certificate, and a recent bank statement or utility bill that is less than 3 months old that shows your address and name.
Fourth, Change your name with your bank.   Take your new driver's license to your bank to get a new bank/debit card and you will have to sign your new name on a signature card.   Don't forget to ask about changing your name on any credit cards, loans, and checks that you have with your bank as well.  Go ahead and order new checks at this time also!
Fifth, contact your Human Resource's Department to get all of your work related information changed as well.   If this is not done, it could cause some difficulty or confusion with direct deposits, getting your pay-checks and other benefits.
Finally, here are some other areas that you might consider doing a name change:
Home address labels
Auto and Home Owner's/Renter's Insurance/Agreements
Utility Bills
Memberships
Credit Cards
Passports
Loans
Vehicle Titles
Voter Registration
Emails and Business cards
Hope you find this information helpful and again, Congratulations!