Corporate Holiday Party in Marietta, GA
Thinking of having a Corporate Holiday Party?  You are not alone!   The economy has been slowly improving and more companies are looking at ways to host a holiday party while keeping their cost down.   According to Noria Corporation:  ReliablePlant, "In its annual survey on holiday parties, global outplacement and business coaching firm Challenger, Gray & Christmas Inc. found that 64 percent of companies are planning holiday parties this year, up slightly from 62 percent a year ago. About 4 percent of those holding parties this year are doing so after one or more years with no party due to the recession."
Many of these companies have done the best they could to just hang onto the employees they have but may not have been able to provide bonuses, raises or other types of incentives as in the past.   According to Bloomberg Business Week, Dawn Bryan states "It's important to convince your staff that you know who they are, you understand their concerns, and you value what they've done over the last year. Having some kind of reward for them builds better unity, boosts their morale, and gives them a sense of pride in their work and their organization."
While a holiday party can cost some money, it can easily cost less than providing everyone a bonus or raise and there are cost saving measures that can be taken as well.   You can consider the following ideas and options:
Host the party during a week night instead of a weekend.   Many employees are already busy during the weekends and event spaces are cheaper and more affordable during the week.

Find a facility who will work with you to allow you to use outside catering, bring in your own alcohol and drinks, and provide simple centerpieces for a beautiful event space that is affordable.   Sometimes, facilities also have preferred caterers that can cut costs with food as well.   Finger foods can sometimes be a cheaper solution instead of a sit down meal.

Think outside the box when it comes to music.   Instead of having a DJ, you could use a speaker system with an Iphone/Ipad connection and create your own music to be played.

If unable to provide bonuses, come up with other fun ideas to appreciate your staff.   Self printed certificates that touch on a funny moment of each staff member over the past 6 months to a year.   Some type of acknowledgement is appreciated over none at all!

Be creative when thinking about decorations.   Using balloons can be a cheaper way to decorate over using flowers or other items.   They take up a lot of space and make the room feel more "full" and add color and whimsy at the same time.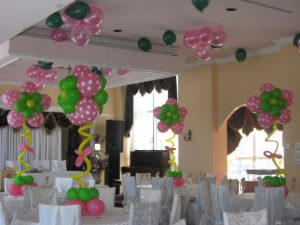 Allow Gala Events Facility to assist you in hosting your next corporate event!  We can work with your budget and provide a la carte options as well as preferred vendors for food, music, photography, and flowers.  Contact us at [email protected] or call Kathi Bland at 404/ 992-1249
404/ 992-1249 to schedule a tour.
Whatever you decide to do, appreciating your staff is always a rewarding feeling for both the staff and their families as well as the management team.  Happy Holidays!!