Perfect Prom Dress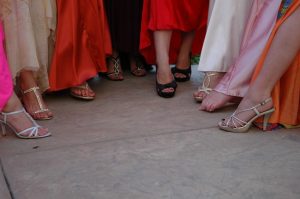 Looking for and finding the perfect prom dress can be a very stressful activity!   You want yours to stand out from the rest, make you look beautiful and, of course, all of that on a budget!
First, you want to start saving early for a prom dress; however, shopping early is not advised.   Prom dresses tend to get cheaper as you get closer to prom time.  The stores want to move their product and they stop slashing prices over time; however, this does not mean to wait to the last minute either.    You may need to have alterations done.   Don't forget, you will also want to save money for new shoes, jewelry, hair accessories and maybe even for getting your hair/nails or make up done the day of prom.
First, you want to find inspiration.  Look for either a color scheme you want to stay with, an inspiration piece such as shoes or hair accessories.   Also be open minded — sometimes we all think we know what will look good on our; however, once we get put in our "dream" dress, we realize it does not live up to our expectations.   Try on different styles of dresses to help you eliminate possibilities – you may also want to listen to the staff.   They are used to working with many different women and different body styles – sometimes they know what will look better on you that you do!
Finally, listen to your inner self — if you do not feel comfortable, do not think that the feeling will go away.  You may just end up in a dress that makes you uncomfortable and makes you self conscious all night.
Remember, get together with all your friends and rent out an  event facility  to celebrate later into the evening after the prom is over.  Gala Event Facility offers many options to help you create the look and feel for a great evening gala!   Call our Manager, Kathi Bland, to see how we can help you celebrate in style!