Food Trucks at Weddings
Weddings have definitely turned around from what they were years ago. Social media has added so much personality and individual flare from decorations to food options. Menus have changed from chicken and beef entrees to customized gourmet food and drinks.   Comfort foods are still a huge wedding trend, but now guests are seeing cronuts, donuts with dipping sauces, mac and cheese, sliders, and other one-bite foods, such as mini pretzel buns, on fall wedding menus.
"One of the biggest things right now is people incorporating fun foods in every aspect of the wedding — like food trucks for instance. Maybe it is a couple's favorite ice cream truck." says – Christina Friedrichsen of IntimateWeddings.com. This is a great idea! They pull up to the front or side of a venue and guests can order from the menu and taste several different options. It is all finger food style and all of the prep work and mess is contained in the food truck and not in the venue.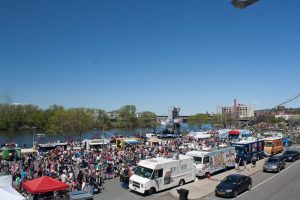 Gala is incorporating food trucks into their preferred vendors. It will be a fun and inventive way to have something different at your wedding that others may not have thought of! Ask Gala how we can help you organize your wedding or event by!