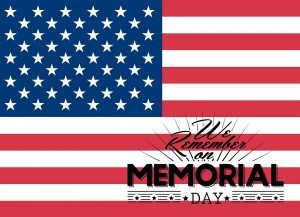 Happy Memorial Day!   Are you and your family/friends having a BBQ or are you headed out onto the water for some sun and fun?    If so, you are in company with most of us on Memorial Day – celebrating a long weekend with family and friends.   However, have you ever thought of what you could do to celebrate in a different way or in a way to say thank you to our service people or to give back?
Here are a few ideas to choose from that you may want to add to your celebration:
 ·         Visit a Veterans' Home or a Veterans' Hospital – either go by yourself or take you family/kids to spend a little time to thank them for their service.   Take a small token, such as cookies or brownies, to show them they are not forgotten.
·         Visit a Veterans' Cemetery and either help to care for the graves that are over grown or take flowers or small flags to decorate the site.   Many of these graves are not cared for as family has either moved away, passed away or are too elderly to care for them themselves.
·         Find a Memorial Day Service or Parade to attend – this can show your support and appreciation to those who served.
·         Put out an American flag or decorations at your house to show support for this great holiday (Don't forget the POW or MIA flags as well!)
·         Visit a local Battlefield – there are many in this area or within a short drive away.   It can also help your children to understand what happened during these battles when they are studying this in school.
 These are just a few ideas – whatever you decide to do this holiday weekend, please be safe, smart and have a great time!