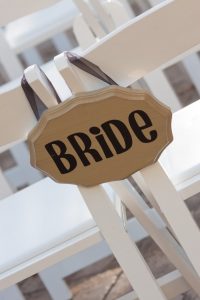 Unique Bridal Ideas
I always talk about finding something that is unique about your wedding over others' weddings.   I found a few ideas that I wanted to share with you as I thought they were interesting and unique and could either be funny or very special.
Have an artist create a painting of your wedding day.    Either from the back of the seated guests during your ceremony or from another spot/moment during your wedding/reception.

Have an anniversary pinata where guests put their comments, advice, etc.. inside and you and the groom pop it at a future date/time.   Either after your honeymoon or maybe even on your 1st anniversary.

For the "blue" at your wedding, have either your wedding date embroidered into the inside of your wedding dress or have the names of loved ones that have passed before your wedding.  It is a way to honor them at your wedding.

Send your guests Mad Libs as your RSVP cards.   It is comical, fun, interactive and may actually encourage a response more than a simple RSVP note/card.

If you don't have younger ones in your family for the flower girl/s and/or ring bearers,   who says they can't be older?   If you want your grandparents or other friends/family members involved in the ceremony, this could be a cute way to incorporate them!

Have word search napkins at the bar.   It could provide an ice breaker for some people who may not know many others.

For a shabby chic wedding, use an old mailbox for your wedding cards instead of a box or cage – you could decorate it any way you want!

Give guests "hangover kits".   These could include aspirin/Tylenol, alka seltzer, a bottle of water, and McDonald's or Waffle House coupons!

Have a food truck at your reception.  Not many people use these for weddings and I think they are not only fun and different, but also keep all the food mess inside their truck and there is less clean up for either you or your family/friends.

Give your leading ladies a quirky handkerchief – maybe one that says "No Ugly Crying".
Again, this is the day of a lifetime, so remember to have fun with it, only involve those that support you and do something to make it a memorable occasion for all!
Congratulations!